Let me start by reminding everyone that no two career paths are the same. Especially into advertising. And especially into the creative side of advertising. Some go straight through college knowing they want to be in advertising. Some come to it as a second career later in life. This is my (abridged) story.
When I was a child I wanted to be a children's author and illustrator. And an architect. And a dance teacher. And a reporter. And a dance teacher again.** Then reporter, or rather, "journalist." And that's what I was to the path to becoming.
I was in college. Studying communications with an emphasis in journalism. I worked for the school newspaper. I interned at a major dance magazine. I wrote opinion columns that afflicted the comfortable and comforted the afflicted. I proudly amassed a portfolio full of writing clips that surely would have landed me (at the very least) on the obit desk of some newspaper where I would have been happy to start my career.
And then, I enrolled for my final fall semester of what I believed to be my college career. I signed up for a couple advertising electives. I went to class. I loved it. I got an advertising internship. I loved it.
I was graduating college with a relevant degree but without the portfolio needed to get the job I wanted — copywriter at an advertising agency. (that's like Peggy on MadMen)
So, I worked at a newspaper for a hot second and then up and moved to Boston for grad school to get a master's in advertising Note: you don't need a master's degree to work at an ad agency. At all. But, that's a different conversation/post for a different time.
Then, I did what anyone would do. I started interviewing. Started working. And here I am. On full-time gig #3 in adland.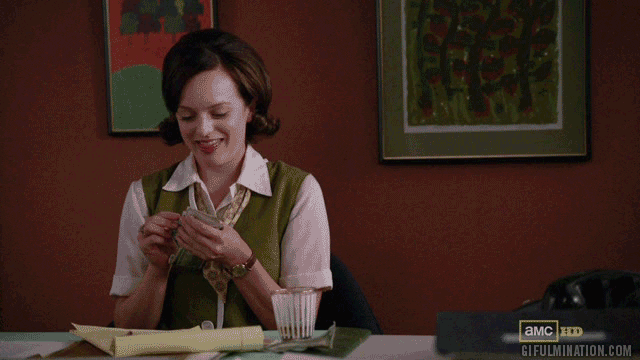 This is just one post in a series of what it's really like to work in advertising today. Keep following along to see what other myths I can uncover for you. All gifs courtesy giphy. I do not own these images.
**You can totally be in advertising and still be a dance teacher, despite what anyone says.