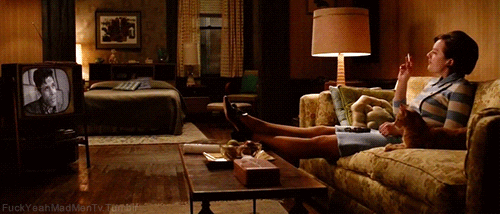 When I tell people I'm a copywriter, they usually give me a strange look. They think I help people get the Ⓒ for products and such. I don't. When I tell people I work in advertising, I usually get a less strange look. And a few questions about what I do, what clients I work on and whether or not advertising is like it is on TV. So, a column of sorts about what it's like to work in advertising here and now.
A few of things have led to this idea:
First, the return of, and soon to be end of, AMC's Mad Men.
Second, a column I read about taking nothing for granted when writing (assume your readers know nothing… not that they're stupid, but that they nothing about where you're coming from… I KNOW you're not stupid.)
Third, knowing that writing what I know seems to work well for me.
(Fourth, it gives me an opportunity to use some sweet Mad Men gifs.)

Spoiler alert… real life advertising in 2015 is mostly not like Mad Men. Though, there are some similarities.
I know that this isn't a revolutionary idea — to write about what advertising is now versus what's depicted on TV. But, I figure I can add my two cents from here in Boston. So, I want to know, do you have any "is it really like that" questions? I'll do my best to answer them. And I'll do my best to share what I know to be true about the ad industry today.